Liberty, sovereignty and decadence in Sismondi's historiography
Keywords:
Sismondi, Historiography, Communes, Middle Ages, Absolutism, Constitution, Crisis
Abstract
This essay enacts a comprehensive rereading of Sismondi's historical works (from the unpublished Recherches sur les constitutions des peuples libres down to the Histoire de la chute de l'Empire romain and the last tomes of the Histoire des Français), reinterpreted – also in the light of the authoritative contributions of constitutional history and economic thinking – on the grounds of the contemporary Sismondian reflections in the other social sciences, as far as extrapolating three common interpretative categories. The centrality of these categories, to which is flanked that of "crisis," contributes to revealing Sismondian historiography in all its complexity, releasing it from the simplistic liquidations effected by authoritative European historians during the "century of history." The author shows a direct as well as very strong bond between historiographic production, constitutional reflection and economic thinking; but also shows how the evolution of the whole Sismondian conception of the social sciences has evolved over the years, achieving some very original results in the historiographic field warranting further investigation.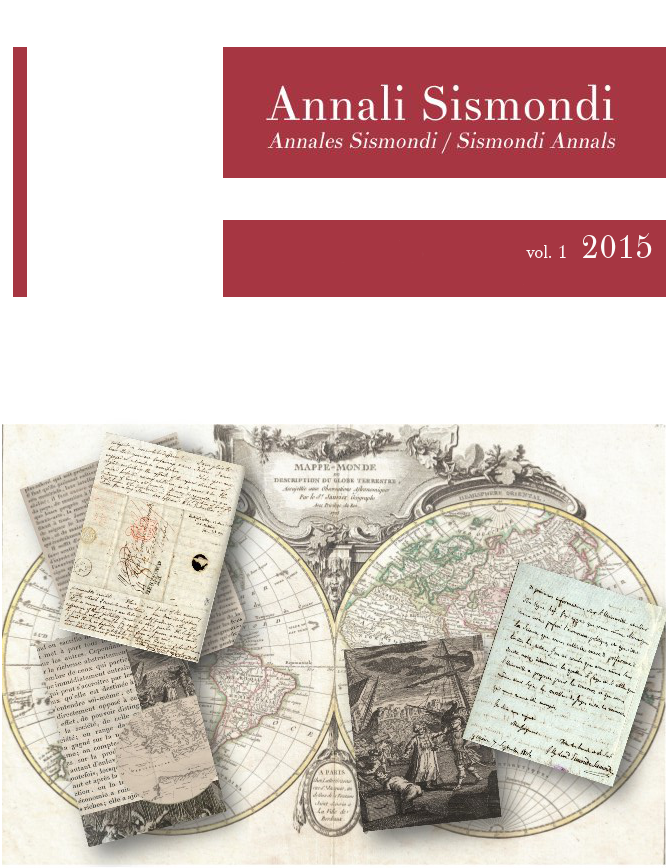 Downloads
How to Cite
Casalena, M. P. (2015). Liberty, sovereignty and decadence in Sismondi's historiography. Annali Sismondi, 1(1), 47–66. https://doi.org/10.6092/issn.2498-9886/5750
License
Copyright (c) 2015 Maria Pia Casalena
This journal is licensed under a Creative Commons Attribution-NonCommercial 3.0 Unported License (full legal code).
See also our Open Access Policy.