Sismondi and Manzoni: Two Fencers in the Dark?
Keywords:
Sismondi, Manzoni, Catholic religion, Counter-Reformation, Historical novel
Abstract
This essay reaffirms the question of the polemic between Manzoni and Sismondi in regard to the negative effects of the Catholic religion of the Counter-Reformation on the character of the Italians. As compared with the existing studies, the author inserts that polemic within the living fabric of Manzonian opus, also availing himself of numerous and little known archival sources. The outcome is a relationship of communication and confrontation between the two great intellectuals that is far more elaborate and fruitful that what might have been thought. Even Manzoni nurtured reservations as to Counter-Reformation culture, and if in the Osservazioni written against Chapter CXXVII of the Histoire des Républiques italiennes he had put forward an almost integral confutation of the Genevan's thesis, in other works he supposedly showed a far more complex thinking on the matter. The author also shows how the reading of Sismondi's work (not only the Républiques, but also the Tableau de l'agriculture toscane and even the Histoire des Français) turned out to be decisive for the founder of the Italian historical novel.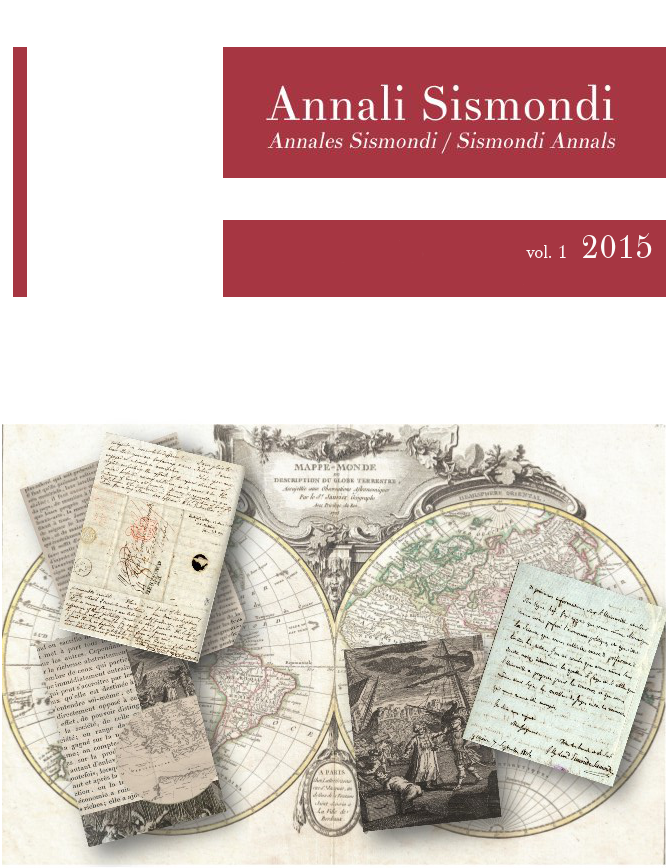 Downloads
How to Cite
Bedini, B. (2015). Sismondi and Manzoni: Two Fencers in the Dark?. Annali Sismondi, 1(1), 23–33. https://doi.org/10.6092/issn.2498-9886/5744
License
Copyright (c) 2015 Beniamino Bedini
This journal is licensed under a Creative Commons Attribution-NonCommercial 3.0 Unported License (full legal code).
See also our Open Access Policy.